Weddings
An interfaith wedding is a reality in our nation today. The number of such marriages is escalating to an increasingly higher percentage. In an open society the formation of relationships between men and women of opposite ethnic and religious backgrounds is both natural and predictable. When two people of different faiths and backgrounds can come together to form the most intimate of unions, that is, indeed, a reason to celebrate!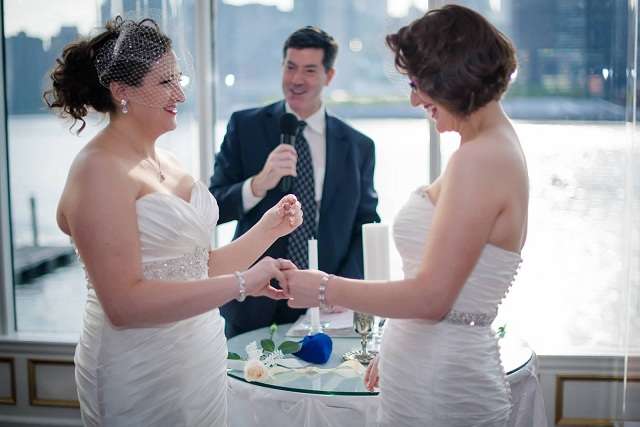 Baby Naming
The object of a baby-naming ceremony is to officially present the child with a Hebrew name, usually honoring a loved one who has passed on. In this touching ceremony, a new Hebrew name is affectionately given to the baby in its parent's arms, along with ecumenical ceremonial input from grandparents.
Bar/Bat Mitzvah
Every Jewish child automatically becomes a Bar or Bat Mitzvah simply by reaching the age of maturity. However, many synagogues require that the child attend religious school for a minimum of 5 years for their inclusion in a Bar/Bat Mitzvah ceremony. For many families this is not feasible whether due to time constraints, finances or just the inability to transport a child to and from religious school.
Funerals & Unveilings
I am always available for funeral, memorial, and unveiling services. Don't hesitate to contact me if I can be of any assistance to you for any of these ceremonies. I am comfortable with both traditional and humanist ceremonies. Funerals are expensive enough.
"Rabbi, I'd like to thank you again for giving my mother such a beautiful funeral. You conduct yourself with a very gentle and sincere countenance. We visited my brother Isaac afterwards, and I know your service as well as her children reunited would have pleased my mother greatly."
"Dear Rabbi Broden, I just want to thank you for doing such a wonderful job at my mother, Joy Raden's, funeral today. Your remarks not only captured the essence of my mother as a person but were also delivered in a comforting and healing manner. I left the ceremony feeling calm and peaceful. You did a mitzvah by helping me through my grieving process. I spoke to the others in attendance, and everybody else felt exactly the same way"
Your content goes here. Edit or remove this text inline or in the module Content settings. You can also style every aspect of this content in the module Design settings and even apply custom CSS to this text in the module Advanced settings.
"Ron: I wanted to let you know how much I appreciated your handling of my mother's funeral and unveiling this past weekend. If I hadn't known better, I would have sworn you had known her all your life! You were able to pick out the salient points in the stories we all threw at you just moments before you had to speak, and you helped us through a most difficult time with grace and dignity – and a sense of humor my parents would have appreciated."
"Dear Ron, I wanted to thank you for the wonderful service you conducted on Sunday for mom and dad. I heard so many nice comments from my family and friends, and I know mom and dad would tell you the same if they could! If I'm in need of a Rabbi in the future, you will be the man I call. I'm so happy to live in the age of the internet or we never would have found you. Again, thank you so much."